Home : History : James Mooney Biography by Smithsonian


James Mooney Biography

---
by National Anthropological Archives, Smithsonian Institution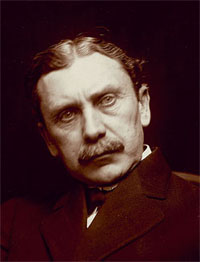 James Mooney (1861-1921) was an ethnographer with the Bureau of American Ethnology from 1885 to 1921. Mooney is a well-known author of works on the Cherokee and other Southeast tribes, the ghost-dance religion, the Kiowa, and other Plains tribes. He also researched in the Southwest among the Pueblos and the northern plains tribes.
James Mooney's formal education was limited to the public schools of Richmond, Indiana. In his knowledge of American Indians, he was self-taught in an endeavor that begun early in life. He read widely and began a compilation of tribal names. After working as a teacher and newspaperman, he sought employment with John Wesley Powell, Director of the Smithsonian Institution's Bureau of American Ethnology, who engaged him in 1885. At the BAE Mooney developed such a breadth and depth of knowledge that he came to be recognized as one of the most outstanding authorities on American Indians.
Mooney advocated meticulous field study and sought long association with his subjects. His work with the Cherokee began in 1887 and continued for the rest of his life. His other chief concern was the Kiowa tribes. He also spent considerable amounts of time studying and collecting among the Arapaho, Cheyenne, Apache, Dakota, Kiowa-Apache, Wichita, and Comanche and lesser amounts with the Hopi, Paiute, Shoshoni, Caddo, and small groups in northern Mexico and in the Southeast. His publications and field work also reveal interest in southern mountain people, the Irish, Florida aborigines and missionary efforts among the Indians.
Mooney's investigations led him to several cross-cultural studies, including most notably an investigation of the Ghost Dance Religion and the use of peyote. His study of the American population at the time that contact with Europeans was published posthumously. He also wrote many articles for Frederick W. Hodge's Handbook of American Indians North of Mexico (BAE Bulletin 30, 1907 and 1910) and prepared several exhibits for international expositions.
Works written by James Mooney
Myths of the Cherokees (1888) OCLC 39982772
Sacred Formulas of the Cherokees (1891) OCLC 17725090
Siouan Tribes of the East (1894) OCLC 4314005
The Ghost Dance Religion and the Sioux Outreak of 1890, Part 2 of 14th Annual Report, Bureau of Ethnology, pp. 641-1136, Washington GPO 1896.
The Messiah Religion and the Ghost Dance; Calendar History of the Kiowa Indians (1898) OCLC 963677 (1979 reprint:OCLC 26956541)
James Mooney's History, Myths, and Sacred Formulas of the Cherokees